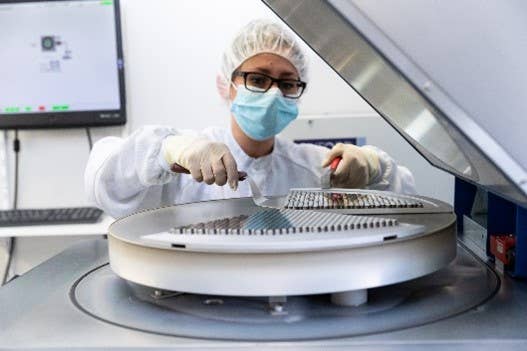 GfS Knowhow in PECVD and DC Sputtering:
Plasma-enhanced chemical vapour deposition (PECVD)
The thin glass insulation layer is produced on the steel expansion bodies by the plasma-assisted chemical vapor deposition process. The sensor bodies are positioned on the hot plate and in the vacuum reaction chamber the embedded silane gas is ionized by the applied high frequency voltage and grows as SiO2 layer on the surfaces.
DC Sputtering
Sputtering means "atomizing" and is a vacuum coating method for the controlled production of very thin layers. The target material is atomized by an argon plasma using DC high voltage and grows on the substrates as a thin layer. At GfS the NiCr and nickel layers are sputtered. They then form the strain gauge measuring bridge and thus the heart of the pressure sensor.