The key component of Trafag's pressure transmitters are pressure sensors based on thin-film-on-steel technology (fully welded design without O-ring). The sensor technology comes from Trafag's own production and was developed inhouse together with the tailored ASIC (application-specific microchip) for the sensor signal processing. As a result, pressure sensor and electronics work in perfect partnership and achieve a unique level of long-term stability and reliability, even under the most adverse environmental conditions.
To comply with the hydrogen specific requirements for pressure measurement, such as embrittlement and permeation, Trafag qualified a special steel alloy for pressure sensors in contact with hydrogen. This specific steel alloy, a nitrogen-strenghened austenitic steel, is both hydrogen-compatible and features also all the material properties which are necessary to build robust, accurate and long-term stable pressure sensors.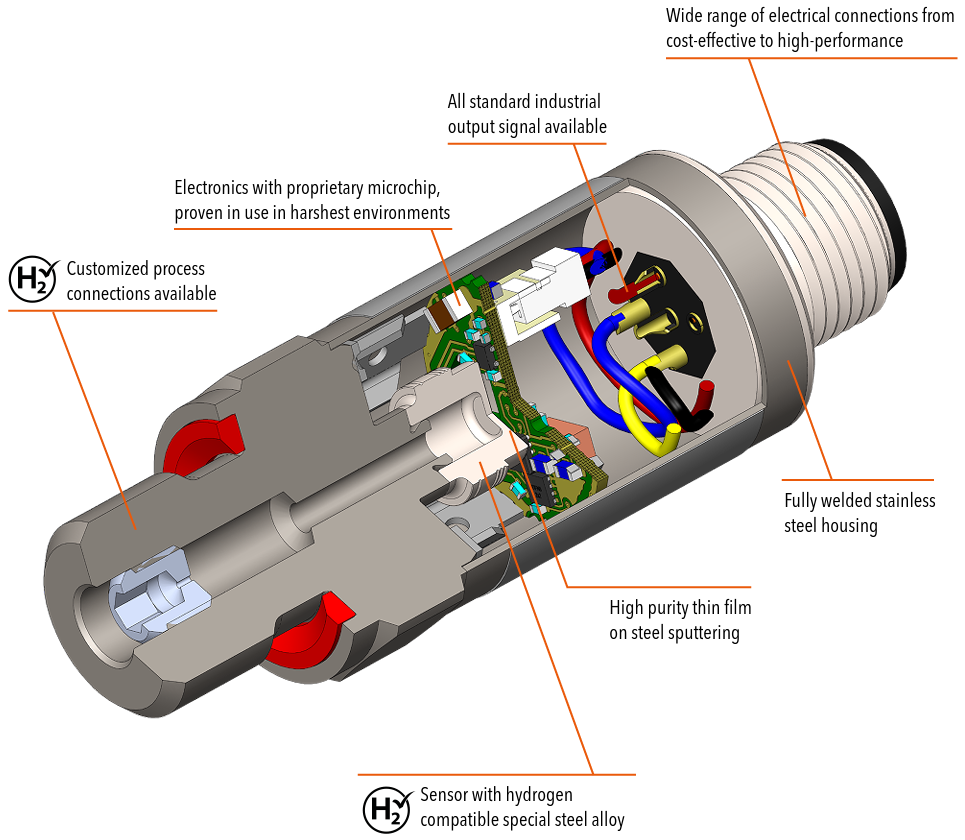 The illustration shows the key features of the Trafag pressure transmitter that make it suitable for mobile and stationary hydrogen applications such as fuel cells, electrolyzers, compressors and storage tanks. Beside these product features, also certain certifications are required for the use in critical applications. All Trafag hydrogen pressure transmitters are EC79 certified and for certain models, also ATEX/IECEx and/or marine approvals are available.
EC79 certified for hydrogen-powered vehicles
ATEX/IECEx for Ex-zones 0, 1 and 2
Approved for marine applications
Advanced filters
Shopping Options
Show advanced filter
Hydrogen Pressure Transmitter

NHT 8250

Approval / conformity:

EC79/2009: e1*79/2009*406/2010*00047*00

EXNT 8292

Approval / conformity:

DNV-GL, KRS, RMRS ATEX, IECE, UKEX, according to the norm EN/IEC 60079-0 / EN 60079-11 / EN 60079-26 / EN 50303