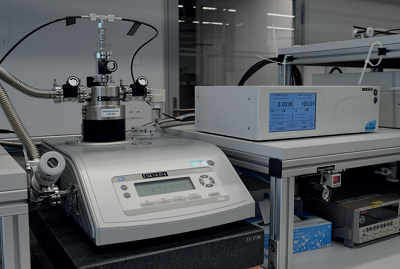 Trafag hosts an independent, accredited calibration laboratory
About three years ago, Trafag decided to set up an independent inhouse calibration laboratory, with the aim of advancing quality assurance. Now it is accomplished.
The strict requirements of the Swiss Accreditation Service SAS were successfully met: The pressure calibration laboratory now complies with standard SN EN ISO/IEC 17025 and has been given the accreditation number SCS 0156. Every measuring instrument ages due to mechanical, chemical or thermal stress. The accuracy of the measured values therefore changes over time, which cannot be prevented. Trafag, however, offers their customers most accurate products, since the measuring equipment is regularly calibrated in accordance with the standards of internal quality assurance. This is the only way to reliably guarantee the required precision of the measuring equipment.
The measuring equipment is thus calibrated against a reference instrument, or a so-called «standard», i.e. a target/actual comparison is carried out. According to QA, all operating equipment in production, such as pressure regulators or electrical measuring instruments, are checked for accuracy annually or as required.
The measuring equipment used achieves five to ten times the accuracy of the test object, i.e. Trafag's products. In this way, Trafag's pressure transmitters can be produced to the accuracy specified in the data sheets. For Trafag, the advantage of having its own calibration laboratory is that there is no transport with potential transport damage and a resulting loss of accuracy for the measuring equipment, a core element in the production of pressure transmitters. It also results in a great saving of time. If the measuring equipment is tested by an external calibration laboratory, it will not be available for up to three months.
With internal testing, the interruption can be reduced to a few hours, or eliminated completely by using replacement equipment. Currently, there is only a limited number of accredited testing laboratories in Switzerland that are authorized to perform pressure calibrations.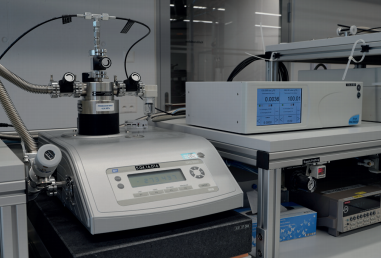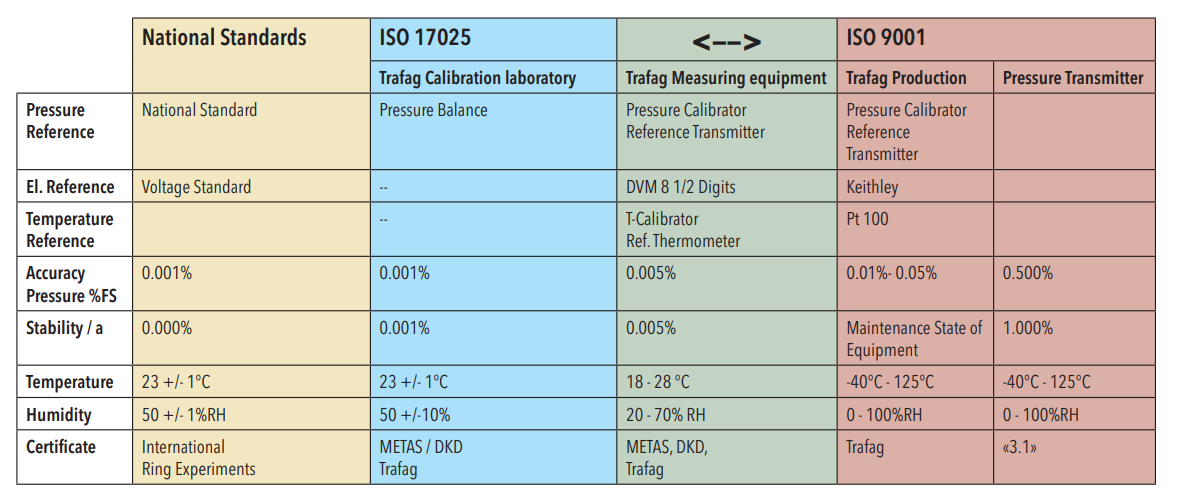 ---
Trafags calibration laboratory receives the certificate of the Swiss Accreditation Service SAS and thus the authorization to perform pressure calibrations: The accreditation by the SAS formally recognises the competence of a body to carry out conformity assessments according to specified requirements. The certificates issued promote international confidence in the quality of the corresponding products and services and thus help to reduce technical barriers to trade. The SAS represents the national interests in the international organisations dealing with accreditation and conformity assessment.
Tasks of the calibration laboratory
Quality assurance
Compliance with calibration cycles
Meeting audit requirements
Optimization of resource utilization
Specifics
SCS accreditation according to DIN EN ISO / IEC 17025
Service: calibration, adjustment (manufacturer-independent)
Calibration types: SCS calibration, factory calibration
Calibratable measuring equipment
All pressure gauges for negative and positive overpressure, differential pressure including differential pressure under static pressure and absolute pressure
Electrical pressure measuring instruments, such as measuring transducers, transmitters and pressure sensors
Pressure calibrators
Pressure controllers
Vacuum meters
Absolute pressure sensors
Differential pressure sensors